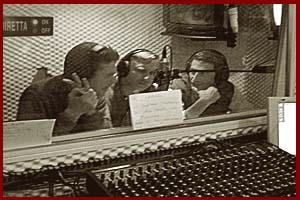 The three historical konductors
This section rguards the most important personaggs who make of Ondestorte a Great Major of Demence and the most important demential-comical radio transmission ever realized in Genova Centro. The triad of the conductors at first, where is glittering the skyline of Voce Misteriosa, real pilaster of Onde conduction, accompagned by Scatolone end Fine Dicitore. But behind theese three persons there are many obcult influenzators which can be reputated the Grey Eminences of Ondestorte.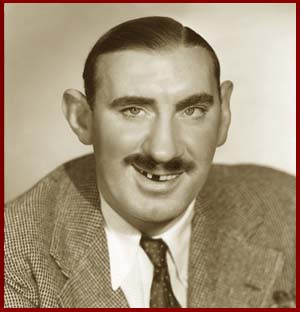 Mr. Caramello O'Brien
In first plane the figure of Caramello O'Brien, real ideological leader of the transimission and inspirator of the most important minkiats of the program. Caramello is an assicurator freelance of Baltimora USA that becomed partecipating to Ondestorte as an outsider but has increased his power up to become the Ondestorte'Pope.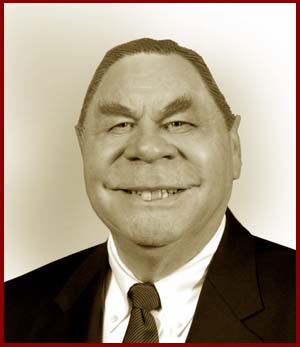 Mr. John Māikol Schenone
John Màicol Skenone is the poliedric creative and amministrative director. He started his career as dog washer in New Zealand but after 2000 washed dogs he espatriated to Anguilla Isle, esperating to find there a fiscal paradise, but was arrested bu AMIU Forces an was condamned to become the Ondestorte director.
Tullio Ciacci Predegoli and Rollo Pecchi Paioli are two divulgator journalists who have dedicated much time in creating Ondestorte's "Palla di Quarz" (see activities), a special scientifical container determining a big cultural level in Ondestorte Palinsest.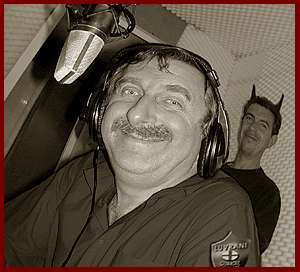 Joe Scognamiglio at New York studios
There are some personaggs who are divented real Stars, required by fans and remembered by many and many years. Here are the Gret Classic of Ondestorte, the Evergreen that forever you'll find in our transmission.
In first plane Joe Scognamiglio, a mithic agent of security, bodyguard and generaly action man, dedicated to violence and fike, generaly with disastrous results. Scognamiglio is the most popular personag of Ondestorte, a real "local hero", many times accompaigned by his colleg Faloppa. He is famous for the tales of fighting nights against badlife in Liguria but overall rest famous for his ability in persuade women telefonating in transmission to do a striptease in direct, arraping millions of listeners.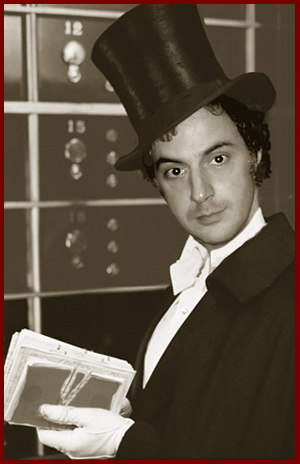 The poet Claudio Fraudolento
in his residence near Feritore River
Second but not second, the official poet of Ondestorte Claudio Fraudolento also called wind's poet. He is a disturbate, distonic idiot with a cult for the ancient times who pretend to poetize mixing food, sex, flowers, quotidianity, accidents and escrements. His poems that are cocktails of surreal cretinery with some light of dullness. Fraudolento has publicated many volumes of poetry, all with different and very particular editors, he lives whith his cousin Estiomene (who is also his secretary) and two or three honky tonky girls.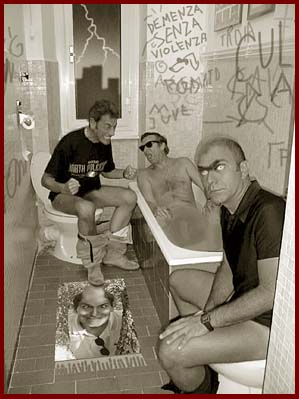 Flacca on WC, Erasmo in the swimming pool
and Pedro Feroci in first plane.
Estiomene on carpet.
Sheraton Hotel, Singapore 1994
Pedro Feroci his the official dj of Ondestorte, with the compit of mantain the program up-to-date, informating tempestively among new sounds, teenagers tendencies, metal perspectives and psycological orizons of the new generations. His performances from notorious discoteques as "Valium" or "Pentotal" has become real lessons of nonsense whith a sequel of paradoxes, ambiguities, provocations and a mixed feeling of bravery, love, fear and mind brainstorming among today's melting pot.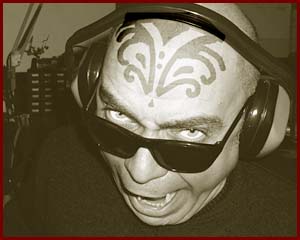 A Maori tatuated Pedro Feroci during a rave
Anentodio "Flacca" Friulzi is a ciclotymic, skizoid, incoerent and hysterical expert, but is impossible to comprend what is his specialization because he's totaly entropic in speaking and his thinking has nor coerence neither good sense. He cries an brings forward a special campaign against something about drugs, corruption, war, capitalism and raxism but we sospect he's only a corrupted imbecil addict in drugs or brain damaged for traumas.
Erasmus Porfirius Avalon Pyramid called Erasmo da Rotterdam is an icredible polyedric showman whith an incomprensible character. He doesn't reply at questions and is very incontenible dement who auto-persuade himseflf to be able in various activities: he's imitator, member of jet set (and personal friend of many actress such as Monica Bellucci, Cameron Diaz, Sharon Stone, Charlize Theron, Salma Hayek, Gwyneth Paltrow, Susan Sarandon and Sophie Marceau), but he is overall a medium and a testimonial of the great voices of the history like King Arthur, Ulyxes or Leonardo Da Vinci.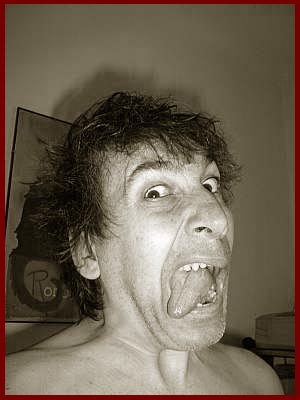 Quaxo Bombalurina
in a rare moment of happyness
Quaxo Bombalurina is a case apart in the Onde Story because this man has any kind of attiutude but he put them into the trash: He was the director of a manicome and after become a computerized musician. He is simpatic, ironic, demential as necessary. And more: he is a good musician with a special talent in speaking troiats and nonsense. He could be the ideal personag for Ondestoorte but he is too lazy and prefer to stay at home with De Fonseca pantofols and room-jacket, watching soap operas at tv set. His cronical pigrice is helped by weather, that is hardly rainy when he must met with friends.