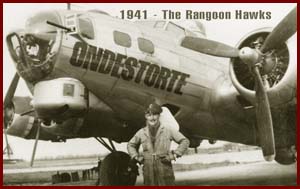 Capt. Flanaghan near his famous bombardier
"Mamma oca" at Rangoon Airport, 1941
During his long history Ondestorte has been costellated by a number of rubriks very exhilarant and divertent. We cannot forget the ancient "Radio Ano", an intimate, sexual, pornografic, erotical corner described by Mr Bertini, the warm voice of Ondestortes first series. The same Bertini, as Alex Triglia, conduced the "Bollentino del mare", a special informative bulletin fo sailors and fishermen.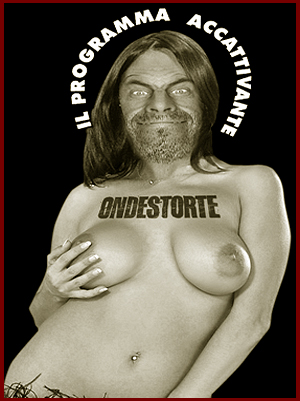 Koype Sterka is a special consultant
and top model of Ondestorte
Onde has not trascurated tu occupy of ufo and phantoms with the specials "Ufo" and "Nel regno dell'occulto".
A very Must of Ondestorte are the actions of "Capitano Flanaghan", a 2nd war hero who Ondestorte has elevated to symbol of the always-fighter soldier, baluard for the defence of freedom. So in the years we have assisted at "Capitano Flanaghan e il Falchi di Rangoon" in the 2nd war, "Capt. Flanaghan e i Falchi di Saigon" for the Vietnam War and, at least, "Capt. Flanaghan e i falchi di Kabul" or "di Bagdad" for the recent invasion and destruction of Iraq. Capt. Flanaghan passed also a brief period in the interplanetary spaces with the small serie "Capt. Flanaghan e i Falchi di Alfa Centauri"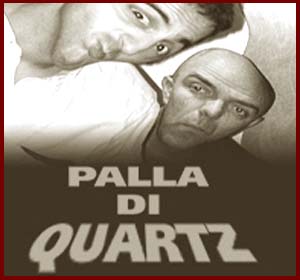 Tullio Ciacci Predegoli
and Rollo Pecchi Paioli
"Palla di Quarz" is a scientifical container conducted by two journalist and professors who open the doors of knowledge, presentating by radio simulation of disasters, experiments and laboratory tests, but the exit is never preview.
Into "Palla di Quarz" you can find "L'alba dell'uomo" a special flashback to the origins of human life, whith the reproduction in studio of the life in the cavern of our progenitors.
"Mi porta Matrix" is an adrenalinic micro program conducted by Jerry Marsala with guests, surveys, collegaments and people telephonating by home. But is not the only journalistic space in Ondestorte: Information is curated by Klaus Koriza and Sport Chronicles are effectued in collegament with the expert Lapio Bidetti.
Real Radio testimoniates
the worst moments of our life
During the years we have had also mani edition of Quizzes and concourses, all rigorously without prixes. The winner are generaly insultated.
"Real Radio" is a real masterpiece in Ond palinsest. The rubrik refers of disasters and tragedies trasmitting directly the accident. It is a moment strong and difficult, with very dramatic scenes, but generaly the episodes finish well.
In "Real Radio" Operate two of the most important cretins of Ondestorte: they are C. O'Brien and J.M. Skenone (see gotha).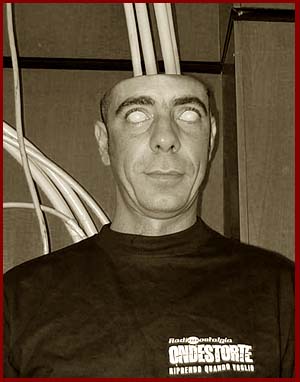 A lobotomized Ellessedi sottopose
himself to a difficult experiment
"Un Porco al Sole" is a parody of the most famous italian soap and employ non professionals actors in order to recreate the natural demential dialogues of today's people.
The Ondestorte Mediatic Archive contains over 340.000 registered tracks of the most remote places in the Hearth: from the algerian bogs to the Primordial Magma, frome the mechanical officine to the interior of human body.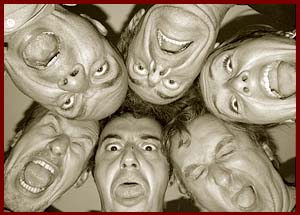 Desperate voices
All is condited with the presence of many "Disturbators" that represent the factor of low integration in our society. We have had drug addicts (toxicals), hispanic singers, chinese wise men, Senegal fuckers, Desperate Tziganos and the Orchestra Director Fagotti Cacca, always looking for a musician called Giustino Della Libera. In Christmas Time Ondestorte guests "I 400 più 400 deficentini di Topolinia" a colossal chorus whith extraordinary vocal performances.