The foundators of the program, traditionally autors an speakers of Ondestorte from 1978 are Filippo Sarti, Mauro Cavallero end Marco Vimercati, completated in 1980 with Mauro Annigoni end Stefano Finauri. Actually Ondestorte is realizated with the collaboration of Gabriele Savioli, Emanuela Molini, Robi Vincenzi and Andrea Lovadina. Vincenzi is present from the origins whith some period of absence.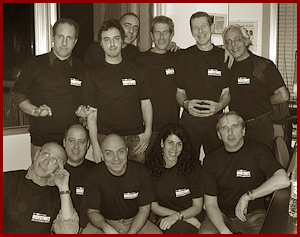 The staff in 2007
For the new serie 2007-2008 there is the new entry of Filippo Iemma (Philo).
In the precedent editions Ondestorte was supported by the presence of many collaborators, in particular: Corrado Annibali, Marco Giorgi, Piero Ghezzi, Bobo Pozzo, Massimo Destro and Riccardo Ramaccini. The female voice employed in Ondestorte is prevalentement the Marcella Silvestri's one. She's a theatre and tv actress and playbacker and has doppiated many important movies and cartoons.
Many alters good actress end amatorial speakers have turned out at Onde's microphones. The most important is Carla Peirolero, actress an organizer of the cult festival Suq a Genova. Partecipating, she diverted very much but she had the sensation of incrinate a wonderfull career.
We cannot forget also Chiara Zarollo, Titti Benvenuto, Monica De Lucchi, Giulia Bruzzone, Chicchi Alloisio. The direction of the transmission was curated in the old times by Stefano Grascio De Lorenzi; he was substituted by Marco Pendola at the end of the seventies. Then went the moment of Stefano Finauri who was also a protagonist as Claudio Fraudolento, meking for that a double work with incredible crossfadings of tracks, telephone, 6 microphones, tapes and lonplayngs. The Providence helped they all.
Actualy Onde is under the direction of Umberto Buelli "Grimaldi il Magnifico", a strong technical intellectual soccerer, determined to transformate Ondestorte in an chronic blackout or a constant noise.
We want thankgiving to all that have substained, directly or indirectly helped or inspirated Ondestorte in the years, and particulary Adriana Colombo, Agostino Biamonti, Alberto Giordano, Burt Bacharach, Buio Pesto, Carlo Trapani, Capitan Basilico, Cavalieri della Commenda, Cavedio de' Galusciis, Cesare Buratti, Elio Micco, Enzo Robutti, Fabrizio Fanzio, Francesco Baccini, Francesco Gaeta, Franco N. & Patrizia C., Fegati Spappolati, Giampiero Buratti, Gianni Fulgenzi Russo, Giovanna & Clara Cavallero, Giorgio Moroder, Giulia Annigoni, La Pletorica, Lito Buttatigiù, Lo Scialaquatore, Lucia Angella, il Cane Malato, Ignazia R., Iside Sasmyrji, i ragazzi del bar Claretta, Ketamina, Kikka Vincenzi, Lo Svedese, Marco Ricci, Mario Janin, Momo, l'infermiera Christine Brun, Massimo Morini, Mandy Kaufmann, Mohammed M. Bendoud, Patrizia Morra, Pappamolla, Pigiamino, Pino Bisi, Popi Frizziero, Roberta Mazza, Roberto Trapani, Rosa Tatuata, Rémy Dubonnet, Rita me Amiga (nu me scurì), Sergio Mezzari, Salvatore Marullo, Timmy Davis Jr., U scemmu do belin. And thankyou to Fra Tripponzio and Suor Darla.